The "Incarcerations of Alija Izetbegović" Book Promotion Held in Sarajevo
The promotion of the book "Incarcerations of Alija Izetbegović" written by Fikret Muslimović and Mustafa Spahić, published by the Alija Izetbegović Foundation, was held on 25th November 2021 in the Sarajevo City Hall.
Foreword for the book was written by Academic Ferid Muhić, reviews by Professor Emeritus Dr Enes Pelidija, Ass. Prof. Dr Admir Mulaosmanović and Edhem Bičakčić. The book editor and afterword author was Faris Nanić, the President of the Foundation's Board.
The book was written in the Bosnian language.
The book covers the first (1946) and the second (1983) imprisonment of Alija Izetbegović. It consists of four parts: 1. "The freedom and lack of freedom in the life and work of Alija Izetbegović", 2. "The attempts at establishing the 'Young Muslims' organization and persecution of Alija Izetbegović (1946-1949), 3. "The fate of Alija Izetbegović and others indicted in the 'Sarajevo Trial' of 1983″, 4."Letters by Lejla, Sabina and Bakir to their father Alija Izetbegović in Foča prison". 
The book promotion was held on the Bosnia and Herzegovina Statehood Day, but also the day when Alija Izetbegović was freed from prison following the show Sarajevo Trial of Muslim intellectuals in 1983. 
The book promotors were:
Latinka Perović, PhD
Stjepan Mesić
Edhem Bičakčić
Faris Nanić
The moderator was Tarik Dautović. The promotion was organized according to the coronavirus pandemic preventive measures, and was attended by high Bosnia and Herzegovina officials, diplomats and numerous friends of the Foundation. 
The Alija Izetbegović Foundation expresses its gratitude to Mrs. Benjamina Karić, Mayor of the City of Sarajevo, and the City Administration, for their support for the organization of this event. 
The complete video of the promotion (in Bosnian) can be viewed at the Foundation's Facebook page @fondacija.alijaizetbegovic.
"Finally, I wish to make an apology as well. My arrest, the searches of my flat, long and uncertain investigation, this trial, the vilification in the press with no possibility of appeal or right of reply, the verdict and everything that follows it, have inflicted pain and hardships on people I love and who love me. First and foremost, on my wife and my children. From this place, I am asking them to forgive me."
From the final statement by Alija Izetbegović during the Sarajevo Trial of Muslim intellectuals, 16th August 1983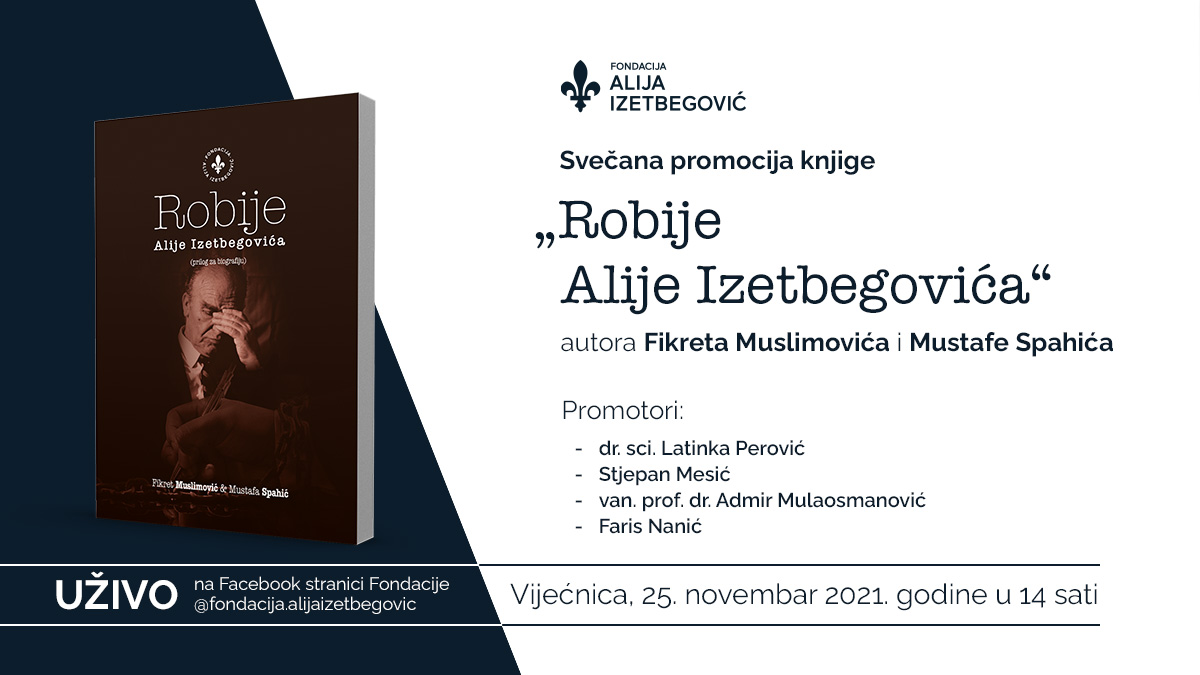 ALIJA IZETBEGOVIĆ FOUNDATION